2017.03.14
2017 TAIPEI AMPA SHOW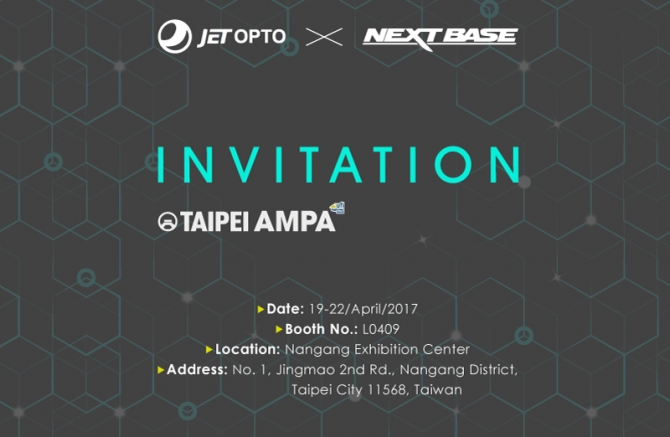 This year, JET has the most advanced products, including…

HUD, Dash Cam, Advanced Driver Assistance System…
Rear Seat Entertainment system — Multimedia Player, Tablet and Universal Mount....

We look forward to greeting you in Taiwan.
Please go to the exhibition site to make the pre-registration at http://www.taipeiampa.com.tw/en_US/index.html.

JET Optoelectronics Co., Ltd.
---

2017 Show Info

1. Show Dates and Hours:
April 19-21, 2017 (Wednesday to Friday) 9:00 AM to 5:00 PM
April 22, 2017 (Saturday) 9:00 AM to 3:00 PM
(1) Show opens to trade.
(2) Overseas buyers please pre-register online to get free entry.
(3) Minors under 12 years of age are not permitted to enter showground.

2. Venues:
Taipei Nangang Exhibition Center, Hall 1(L0409)
No.1, Jingmao 2nd Rd., Nangang Dist., Taipei City 115, Taiwan.